Watch Video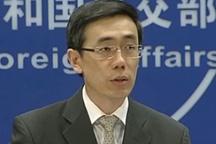 Play Video
China has responded to Japan's latest reactions to the dispute regarding the Diaoyu Islands. A spokesman dismissed a representation lodged by Japan over Chinese patrol ships operating in waters off the Diaoyu Islands in the East China Sea.
Three Chinese fishery patrol ships arrived in waters near the Diaoyu Islands earlier Wednesday during a routine check.
According to fishery authorities, the law enforcement vessels, Yuzheng-202, Yuzheng-204 and Yuzheng-35001, were conducting routine patrols in the East China Sea.
But Japanese vice foreign minister Kenichiro Sasae said the patrols violated Japanese territorial waters, calling it "extremely serious" and "unacceptable."
Osamu Fujimura, Japan's chief cabinet secretary, said, "Japan's Foreign Ministry is protesting through diplomatic channels. Vice Foreign Minister Kenichiro Sasae has summoned China's ambassador in Japan to file a protest."
But the Ambassador reiterated China's consistent stance on the Diaoyu islands. Later in the day, Chinese Foreign Ministry spokesman Liu Weimin responded to Japan's latest statements at a daily news briefing.
Liu Weimin, spokesman of Chinese Foreign Ministry, said, "Diaoyu Island and its affiliated islands have been China's inherent territory since ancient times. Chinese fishery patrol ships entered the waters under Chinese jurisdiction in accordance with Chinese law for routine patrols and official duties. China does not accept the representation lodged by the Japanese side over the issue."
The China fishery Administration Bureau had earlier issued a ban on fishing in the East China Sea from June 1, to protect fish during the spawning season.
In order to safeguard the interests of China's fishing industry and ensure the safety of its fishermen, the Bureau has included areas surrounding the Diaoyu Islands and affiliated islets in its regular patrol area since 2010.
Editor:Zhang Dan |Source: CNTV.CN