Watch Video
Play Video
The UN Security Council has once again heard from international peace envoy Kofi Annan on his proposals to halt the fighting in Syria. The briefing comes as the council has to decide what to do to the UN mission on the ground in Syria.
The initial 3 month mandate for the observers expires next week. Russia and western countries are introducing competing draft resolutions on Syria and the UN mission.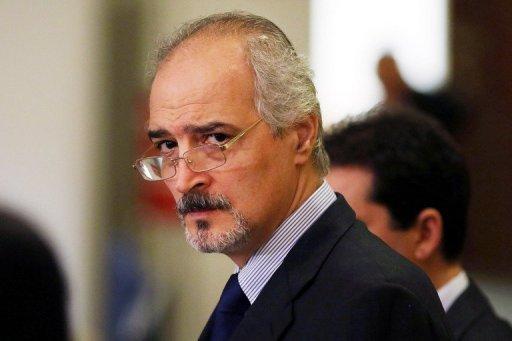 Syrian Ambassador to the United Nations Bashar Jaafari prepares to address the media
following a UN Security Council meeting in New York City. Western nations on
Wednesday demanded that the UN Security Council give Syria's President Bashar al-Assad
10 days to stop heavy weapon attacks or face sanctions. (AFP Photo/Spencer Platt)
Kofi Annan addressing the press after briefing the Security Council behind closed doors- he said little new but emphasized the way forward for the international community on Syria in the coming days will come from the Security Council.
In New York now two competing drafts resolutions both would renew the UN mission in Syria and give it more of a political focus but the Russian one would not threaten sanctions.
Alexander Pankin, Russian Dep. Ambassador to the UN, said, "If there is no political will on behalf of all participants to this large process, then no actions especially one sided actions aimed at the Syrian government would be helpful in reality "
The West disagree and their proposal could implement sanctions within 10 days.
Gerard Araud, French Ambassador to the UN, said, "We have waited 18 months we can't wait weeks and months, you know really every week hundreds of Syrians are dying, so the council has to act "
The west also wants the UN mission extended for 45 days not 3 months as the Russians do- There is some agreement that the mission could be re-calibrated to focus more on fostering an environment for political dialogue but the US is less keen on keeping a mission going while there is no peace to keep.
Political talks are also a problem. After 3 days of talks with the Syrian opposition in Moscow it is clear that there was no breakthrough and the delegation openly disagreed with their hosts.
Abdelbaset Sieda, president of Syrian National Council, said, "I regret to say that the Syrian people are suffering because of Russia, because of the position it has taken, because of its veto in the U.N. Security Council. As a result of this, murders continue, shelling continues, the strikes by warplanes, artillery, tanks, all the weapons that Russia has given to the Syrian regime. The current regime uses Russian weapons against its own people."
It is difficult to see how in this environment either the Syrian parties or the international community can come together and soon to agree on the way forward in Syria.
Related stories
Editor:Zhang Dan |Source: CNTV.CN