Watch Video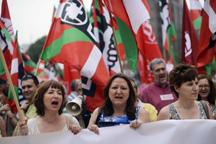 Play Video
In Madrid, civil servants have protested outside an office of the Ministry of Treasury and Public Administration. The move follows a speech by Prime Minister Mariano Rajoy on Wednesday, which proposes economic measures to combat the country's high public deficit.
In Spain, civil servants have been protesting against the Prime Minister's announcement to cut civil service pay while increasing the number of hours worked per day. The demonstrations came ahead of a meeting between public servants and a government representative charged with explaining the cuts.
A few hundred demonstrators pushed their way through the office doors where the meeting was scheduled.
Miguel Borra, representative of CSI-F, said, "It's a very tense situation. They've cut part of our salaries, so again civil servants are at the brunt of the austerity measures. This union will not allow that and will fight it."
On Wednesday, Prime Minister Mariano Rajoy unveiled the new austerity measures designed to slash 65 billion euros from the public deficit by 2014.
Rajoy proposes a 3-point hike in the main rate of Value Added Tax on goods and services to 21 percent. He's also announced new indirect taxes on energy, plans to privatise ports, airports and rail assets, and a reversal of property tax breaks that his Popular Party had restored last December.
Postal worker said, "We're here to protest against the cuts the Popular Party government is making. What Mr Rajoy should do, if he has any dignity is resign because he has lied to this electorate."
With five years of economic stagnation and recession, unemployment at around 24 percent and tax revenue falling, Spain is struggling to reduce it's deficit after far overshooting its target last year.
The high deficit and weak banks are now at the centre of the eurozone debt crisis. Speculation is spreading among investors as they fear Spain could join Greece, Portugal and Ireland in needing a sovereign bailout.
Editor:Zhang Dan |Source: CNTV.CN