Watch Video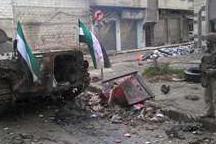 Play Video
A day after failing to agree on a resolution that threatened sanctions on Syria,the United Nations Security Council has agreed to extend the observer mission for another 30 days. The unanimous vote gives the Mission another chance to help bring about political dialogue and encourage a ceasefire. But the situation on the ground continues to worsen.
A unanimous vote to extend the United Nations Supervision Mission in Syria, or UNSMIS, for another 30 days, but behind the show of unity still very different interpretations as to what this extension means.
Mark Lyall Grant, British Ambassador to UN, said, "It is a final extension unless there is a chance in the dynamic on the ground and in particular that there should be a cessation of use of heavy weapons and that there should be a sufficient reduction in the violence to enable UNSMIS to carry out its mandate."
While Western countries say the force should be pulled out in a month if conditions on the ground don't improve-China and Russia say keeping the mission in place is the only way to keep hopes of implementing international envoy Kofi Annan's peace plan alive.
Chinese ambassador to UN Li Baodong said, "We want to see mediation efforts continue by Kofi Annan. This is the political process. This is the political solution we want to see to help the people in Syria."
And in an interview with CCTV, Syria's ambassador to China said that there was hope that the security situation could improve in the coming days.
Syrian ambassador to China Imad Moustapha said, "Let me assure you of this, the security situation in my country will not continue to worsen. It's actually improving, despite the terrorist attack. I will tell you, I will tell you, despite the terrorists, horrible criminal attack that took place in Damascus two days ago in which three Syrian army generals were killed, our forces were very successful"
That view may prove to be optimistic. Government forces launched a strong counter-attack against the opposition in the Damascus district of Midan, but Opposition forces have taken border crossings and both sides now show signs of wanting to talk.
Meanwhile, the funeral took place for Syria's slain defense minister-the 4th victim of Wednesday's bomb blast that struck at the heart of the government's security apparatus.
Reporter: "While the unanimous vote to extend the U.N. mission in Syria for another month avoids a messy withdrawal this weekend, unless the situation changes on the ground over the next month we are likely to see a repeat of the confrontations here in New York. With the U.S. arguing to pull the mission as it cannot do its work and Russia insisting it stay in place ready to work if the situation improves."
Related stories
Editor:Zhang Rui |Source: CNTV.CN