Watch Video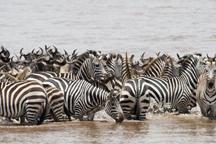 Play Video
Nowhere in the world is there a movement of animals as large as the migration of Africa's wildebeest. Besides the principle players in this migration, there are also other large mammals such as zebras and thomson gazelles.
The wildebeest migration is a spectacle that has made the list of the seven new wonders of the world. It is one of natures sights that has never ceased to amaze. Though famously known as the wildebeest migration, it not only involves the wildebeests but other animals as well.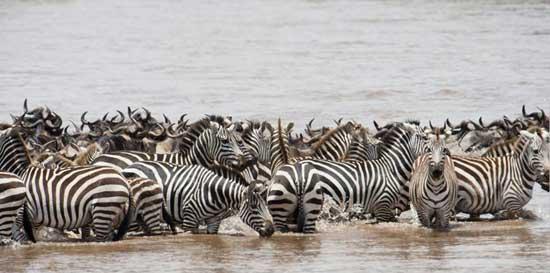 Zebra section crossing Mara River on el Massai Mara Park International, Kenya.
Mohammed Tubi, senior warden in Maasai Mara, said, "It involves mostly the large herbivores, mainly the zebras, wildebeests and thormson gazelles
Every year in the month of July these animals cross from the Serengeti National Park in Tanzania, to Kenya's Maasai Mara National Reserve. During the migration, the hierarchical order of the animals comes into play
Tubi said, "The zebras invade these grasslands first to open up for the wildebeests, they then make way for the thomy gazelles.
Reporter: "This is one of the crossing points of the wildebeests as they migrate from the Serengeti to the Maasai Mara.
Over 2 million wildebeests cross this river accompanied by thousands of zebras and thomson gazelles. Their sheer numbers is good news for all the predators in the Mara.
Tubi said, "In Tanzania they don't do cropping and in Kenya we also don't crop so naturally they control the population of these animals."
So significant is the migration that it dictates the tourism peak season in Kenya
Q: " I've heard that you can see the migration from the moon?
Tubi said, "I've heard people say that but it's amazing. When they come all this area is black."
The animals stay in the Mara for three months before moving back to the Serengeti and come July the following year, the migration cycle is repeated.
Related stories
Editor:Zhang Rui |Source: CNTV.CN