Watch Video
Play Video
Let's follow one of the wonders of the African grasslands, the wildebeest migration. After a 1500-kilometer journey, large herds of the animals have arrived on the banks of the Mara River and are preparing to cross it. Year after year, countless wildebeest lose their lives in the attempt to cross. But nothing stops them. Let's take a look at this important but tragic moment in the migration.
The Mara River begins in Tanzania, and flows towards Kenya's Masai Mara grassland. The Mara River is the last stop in the wildebeest migration. They have no choice but to cross the river to find food and water.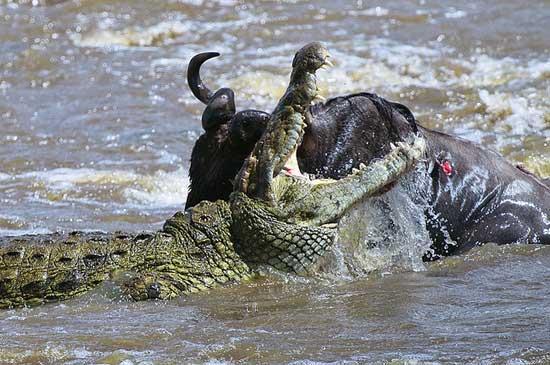 Battle between a Nile Crocodile and Wildebeest in the Mara River, Kenya, August 2009.
But crossing is dangerous. Crocodiles in the river are ready, waiting for their prey.
More and more wildebeest approach the river.
Suddenly one of them rears up and jumps into the water. And the move seems like a trumpet call for battle. Wildebeest begin to cross one after another.
More and more crocodiles gather in the river. They always target the smaller creatures as they're easier to catch.
When most of the wildebeest are in the river, the fiercest moment comes. Within minutes, they pour into the river and climb over each other to get up the banks. But some of them never reach their destiny.
But thousands do successfully cross the river. Peace returns to the river, apart from the corpses lying on the river.
One little wildebeest stands beside the body of its mother, loath to leave.
On the Masai Mara grassland, wildebeests complete their migration. But months later, they will come back with their children, once again to confront the severest test of their lives.
Related stories
Editor:Zhang Rui |Source: CNTV.CN