Watch Video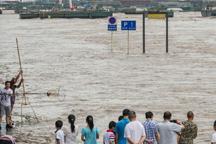 Play Video
Southwest China's Chongqing municipality has suffered its worst flooding in more than three decades overnight as the Yangtze river peaked before reaching the Three Gorges Dam.
A city half submerged by floodwater...
Eleven districts of the city were left underwater, causing a direct economic loss of nearly 710 million yuan...
The local authority says it may take two or three days for the water to drain away, but rescue work began straight away...
Yan Yonghui, Deputy Director of Chongqing Flood Control Office, said, "The flood has submerged some riverside stores and temporary homes, and caused some damage to property. But so far no injuries or deaths have been reported."
Baisha Town, one of Chongqing's historic spots, has been badly damaged by the flood... with half of the town destroyed.
Now the focus is to help affected residents...
But residents say they are still in desperate need of more drinking water...
Soldiers are working around the clock to restore power, and it's expected to be back on today.
With the flood peak over, some residents have returned home to clean up, and help each other rebuild their lives...
Editor:Zhang Jingya |Source: CNTV.CN