Watch Video
Play Video
The 85th anniversary of the founding of the People's Liberation Army is around the corner. To mark the occasion, the Chinese army has invited reporters from both Chinese and foreign media to visit the Army Aviation 4th Helicopter Regiment. Hou Na reports from an army base in Beijing.
Hovering, descending and climbing turns...
The Z-9WZ helicoper formation demonstrates the army's four pillar qualities; bravery, loyalty, prudence, and pragmatism.
The Z-9 is the first armed reconnaissance helicopter designed and manufactured in China.
Zhao Derong, Deputy Commander of Army Aviation 4th helicopter Regiment, said, "As a Chinese-made helicopter, the Z-9WZ has the capacity to attack air and ground targets."
Hou Na said, "This is the Z-9 helicopter which you have seen in the performance, it is a medium-sized military helicopter. it's manufactured by China alone, and it can provide fire support for ground troops ."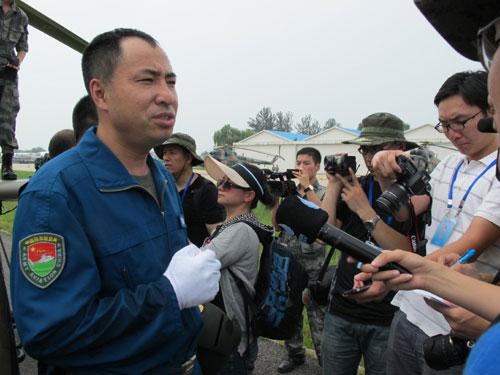 Zhao Derong, an experienced pilot from the Aviation 4th Helicopter Regiment,
answers questions from Chinese and foreign reporters during a visit to the
military base of the Chinese People's Liberation Army (PLA) Army Aviation 4th
Helicopter Regiment on the outskirts of Beijing on Tuesday, July 24, 2012.
[Photo: CRI]
The Z-9 can be armed with aircraft machine guns, aircraft cannons, rockets and missiles to strike air and ground targets.
Together with transport and supply aircraft, the regiment has completed more than 100 operations, including flood relief in 1998, search-rescue and retrieval of re-entry capsules from the Shenzhou series of spacecraft.
Zhang Zhilin, Commander of Army Aviation 4th Helicopter Regiment, said, "Our training is becoming more versatile and modernized. We have conducted air security for major national events, emergency rescue and disaster relief. We will continue to train our staff for multi-task operations.."
The Chinese army has stepped up its modernization efforts in order to satisfy the strategic requirements of conducting both offensive and defensive operations.
The army believes that giving more international journalists a first-hand look at its technology and installations shows its determination to foster peaceful development.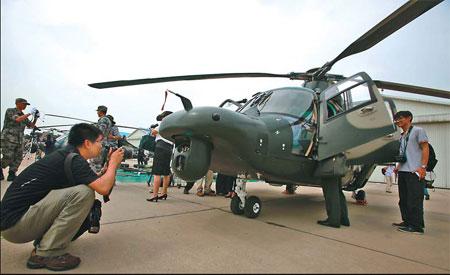 Journalists photograph a Z-9WZ helicopter during a group interview at a
military base in Beijing on Tuesday. Wang Jing / China Daily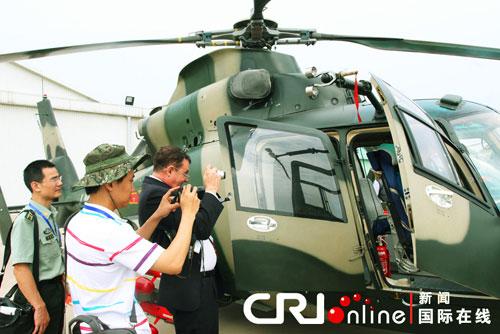 Chinese and foreign reporters take photos of a Z-9WZ helicopter while visiting the
military base of the Chinese People's Liberation Army (PLA) Army Aviation 4th
Helicopter Regiment on the outskirts of Beijing on Tuesday, July 24, 2012.
[Photo: CRI]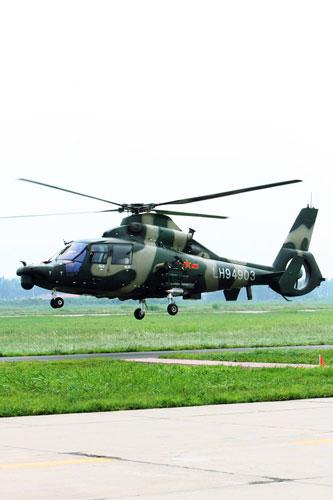 Pilots perform aerobatic stunts for Chinese and foreign
reporters at the military base of the Chinese People's
Liberation Army (PLA) Army Aviation 4th Helicopter
Regiment on the outskirts of Beijing on Tuesday,
July 24, 2012.[Photo: CRI]
Editor:Zhang Jingya |Source: CNTV.CN