Watch Video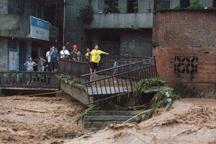 Play Video
Southwest China's Chongqing municipality has suffered its worst flooding in more than three decades.
When the waters began to rise, there was little anybody could do but flee. Han Siyu and her husband used to live comfortably in a second-floor home on riverside road, but now they can hardly recognize it. The flood damaged what they built up piece by piece in past ten years.
Han Siyu said, "We first moved in here 10 years ago with a bunch of old furniture. As our income grew over the years, we slowly accumulated new things to have a better life. My daughter's room was just refurbished. But I have to accept that and move on. and we are not alone."
Her husband, though, seems to be having a harder time with the loss.
Fan Huailin, a teacher said, "I can't describe my feelings - it is just too hard for me. I took photos of the remnants with my phone when I first returned. I am fifty years old and have never seen a scene like this before. All my belongings and furniture were in ruin. I started teaching in 1981, and my thirty years of work to build up my family were washed away in one night. We lost at least 100,000 yuan, and our annual income is only 40,000 yuan. "
At the end of a long day's work, the couple returns to the town's evacuation center for dinner and rest. It will be a long time before they can return home. And there are hundreds of others like them in the town. So for many, a proper family dinner and the comfort of a soft bed at home may be a ways away.
Li Nan said, "This is this couple's third dinner at the evacuation center. And they don't know how long this situation will last. And so for them, even such simple pleasures may prove elusive for the foreseeable future."
Editor:Wang Xiaomei |Source: CCTV.com