Watch Video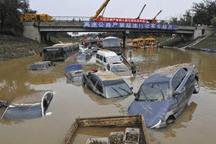 Play Video
Traffic on the Beijing-Hong Kong-Macao expressway has returned to normal after clean-up efforts following Saturday's massive downpour in the Chinese capital. Though the horror is now over, many dramatic stories about rescue efforts are coming to light. They include migrant workers who risked their lives in the race against time to save more than 180 trapped people.
Traffic is back to normal on the Beijing to Hong Kong and Macao highway. But it is on the same road, not far from Beijing, flooding in Saturday's downpour submerged cars and even buses. People screamed for help, alerting workers at a nearby factory who grabbed ropes and lifebelts and ran to the site.
Wang Xueshuang, a migrant worker said, "We used a 100-meter long rope. We tied one end to the column right here. And then after walking across the bridge, we pulled the rope to the other side and tied it to the tree."
The rope across 6 lanes of highway became a lifeline. Wang Xueshuang jumped into the water and swam to the buses where people were trapped.
Wang Xueshuang said, "I grabbed the rope, swam to the bus and gave the rope to the people. Then we gave them lifebelts and began rescuing them."
More migrant workers joined the rescue as the rain became heavier. Among the trapped, was a patient who had just had an operation whose wound could have been infected.
Wang Xueshuang said, "We used ten foam panels and bundled them together to make a stretcher. Then we lift him on to it and took him home."
150 workers, 30 lifebelts, a rope, some foam panels and emergency flash lights. A six hour rescue effort to free everyone from three buses, and pull them to safety.
Editor:Wang Xiaomei |Source: CCTV.com