Watch Video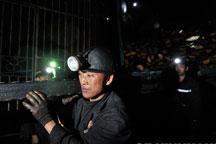 Play Video
In southwest China's Guizhou Province, five miners who were pulled out alive on Sunday night, after being trapped undergound for four days, are now recovering in hospital. Recalling those terrifying hours has left the miners with a sense of shock and relief that they survived the ordeal without serious injury.
Underground in the dark for 97 hours without food or enough water, surviving on drips from the ceiling.
After being pulled out alive, signs of dehydration and anxiety were all too real. But now, their conditions have stabilized.
Li Fangming, Dean of Qianxi Nanzhou People's Hospital, said, "They are basically out of danger. We are taking measures to ease their dehydration. Besides, psychotherapy is underway to calm their fear and anxiety."
Di Wenbo is the team leader. After the disaster, he organized his miners to collect rocks and to build a wall to prevent the mine from further collapse.
On the third day, their faith was dwindling. Di tried to cheer them up by encouraging them to talk about their families.
They also dug a tunnel by hand, trying to get in touch with the rescue team.
Di Wenbo, Leader of Trapped Miners, said, "We dug about eight or nine meters. We were desperate. But when we got rescued, after seeing the rescue team and our leaders, my tears dropped."
Doctors said, the miners are expected to fully recover after a week of treatment.
The mine collapsed last Wednesday afternoon. Located in Pu'an county, the coal mine has an annual production capacity of 210 thousand tonnes. An investigation into how the mine collapsed is underway.
Editor:Zheng Limin |Source: CCTV.com