Watch Video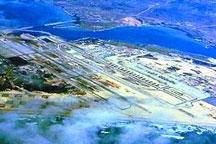 Play Video
Vietnam has announced it will allow Russia to set up a ship maintenance base at one of its ports in Cam Ranh Bay.Meanwhile, Russia announced that it would provide a 10 billion US dollar loan to Vietnam, including 8 billion to build its first nuclear plant.
Cam Ranh Bay is a deep-water bay in Vietnam in the province of Khanh Hoa. It is located at an inlet of the South China Sea situated on the southeastern coast of Vietnam. It is considered one of the world's best deep-water ports and also a significant military standpoint for defense due to its favourable geography. Now let's take a look.
Cam Ranh Bay is 98 square kilometres and its deepest water can reach 32 meters. Meanwhile, it can anchor 40 large warships including an aircraft carrier.
The continental shelf of South-east Asia is relatively narrow at Cam Ranh Bay. Historically, the bay has been significant from a military standpoint.
In 1905, it was used as a staging area for the Imperial Russian fleet prior to the Battle of Tsushima with Japan.
In 1935, the French began to build a naval base for their forces. In 1940, the bay was used by the Japanese Imperial Navy in preparation for the invasion of Malaysia.
During the Vietnam war from 1965 to 1967, the US spent 300 million US dollars to expand the bay. The US Air Force operated a large cargo and airlift facility called as Cam Ranh Air Force and it was also used as a tactical fighter base.
After the war in 1979, the former Soviet Union government signed an agreement with Vietnam for a 25 year lease of the base. Cam Ranh Bay was the largest Soviet naval base outside the Soviet Union, allowing it to project increased power in the South China Sea.
In 2002, Russia lowered its flags for the last time and the bay was transferred to Vietnam.
In June 2012, the US Secretary of Defense Leon Panetta paid a visit to the Bay and expressed its importance for its military shift on Asia Pacific.
Related stories
Editor:Zheng Limin |Source: CCTV.com