Watch Video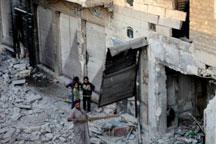 Play Video
Syrian government troops say they have regained control of the Salahuddien neighbourhood, a key battlefield in the week-long clashes in Aleppo. The neighbourhood was the first to fall into rebel hands last week, as they stepped up their fight against the forces of Syrian President Bashar al-Assad.
Syrian rebels are hoping to make the country's largest city Aleppo into one of their main bases against President Assad. Situated near the Turkish border, Aleppo has long played a crucial role in being the country's economic hub.
Controlling this strategic city has been one of the major goals of the rebels.
Bassam, Director of Damascus Strategic Research Center, said, "The geographic location of Aleppo is very important. It is the economic center of Syria, it's the north gate to Turkey. Just because it is near Turkey, if the rebels can control it, they can get suppliers from Turkey easily. "
And it's for that very reason that Syrian government forces have fought mercilessly to retake the city.
Helicopter gunships opened fire over Aleppo on Sunday and the thud of artillery shells boomed across neighbourhoods.
US Defense Secretary Leon Panetta has called government attacks on Aleppo an act of desperation by Assad's government as it tries to cling to power. He made the remarks at the start of a week-long trip to the Middle East and North Africa.
Leon Panetta, US Defense Secretary, said, "It's pretty clear that Aleppo is, I think, another tragic example of the kind of indiscriminate violence that the Assad regime has committed against its own people and in many ways, I think if they continue this kind of tragic attack on their own people in Aleppo, I think it ultimately will be a nail in Assad's own coffin, that he's just assuring that the Assad regime will come to an end by virtue of the kind of violence they're committing against their own people."
After 10 days of heavy fighting, government troops were concentrated in surrounding areas, as its tanks and helicopters outgunned the rebels' small and medium arms.
Who will ultimately control this strategic prize is still up in the air.
Related stories
Editor:Zhang Hao |Source: CCTV.com