Watch Video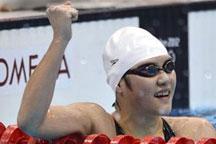 Play Video
After two remarkable, record setting, gold medal winning swims, China's Ye Shiwen found herself being forced to deal with suspicions surrounding the legitimacy of her performances.
Ye, set a new Olympic Record with her swim in the final of the 200 IM and a new World record in the 400 IM. And these times led some to question their validity, saying they may be the product of doping, despite Ye testing clean at the games...and the IOC saying they believe she is. And now, the British media is defending the Chinese.
The Daily Telegraph and The Guardian both came out, supporting Ye over the last couple of days. And The Guardian, even conducted a survey...which found 98 percent of Britons believe John Leonard, who accused Ye of using drugs, should apologize to her.
The BBC, who also questioned Ye, are now saying that they believe she is clean..as she has passed her drug test and the evidence speaks for itself. Many Chinese expats also expressed their support for the young swimmer.
Yan Zhenyu, associate editor of European Times British Editon, said, "We're criticising the BBC for the lack of facts and evidence in their reporting of the event."
Related stories
Editor:Wang Xiaomei |Source: CCTV.com