Watch Video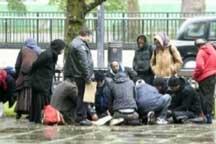 Play Video
The UK has been criticised for expelling hundreds of gypsies ahead of the opening of the London 2012 Olympics. The National Gypsy Council says yet again they are discriminated against, as they were in France under former president, Nicolas Sarkozy.
The gypsies, mostly from Romania, used to live in East London, near the site of the Games. Now, there is little clue they used to live there.
Right before the opening of London Games, local police invited Romanian police to deport them back to their home country.
Joseph Jones is a Gypsy who was born in London. He said the British want to present a good image.
Joseph Jones, Chairman of Gypsy Council, said, "It's a matter of image. Every country wants to put the best face forward.It's not a good impression."
The main Gypsy population is made up of immigrants who come mostly from Eastern European countries like Romania, usually illegally. They are often seen begging on the streets of Britain cities.
Joseph has been living in London for years and he finally have his own settlement here after years of hard work. However, a descent job and living environment can not change the fact that they and their children are discriminated againt
A number of British view them as thieves and beggars who are a threat to social order.
Joseph Jones, Chairman of Gypsy Council, said, "Gypsies and travellers in the UK and in the rest of Europe suffer from a lot of racial discrimination. Gypsies and the travelling community the bottom of every list."
Some 12 million Gypsies lives in Europe, with a big proportion of them in Central and eastern Europe. Many of them have a poor life in camps. And their living condition is not going to get any better.
Editor:Zhang Pengfei |Source: CCTV.com