Watch Video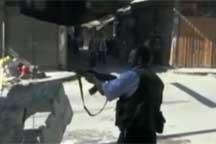 Play Video
Syrian government forces and opposition fighters continue to battle for control of Aleppo Syria's most populous city. Reports surfaced on Tuesday that dozens of civilians were killed. This-- as the United Nations humanitarian chief flew to Syria to push for more access to the now millions affected by the crisis.
Days after being secretly smuggled out of the country- Syria's most high ranking civilian defector so far faces the cameras -and Ryad Hijab says the Syrian government is collapsing.
Ryad Hijab, Former Syrian Prime Minister said, "I assure you, through my experience and the position I used to fill, that the regime is collapsing psychologically, financially, economically with cracks in its military power. It is only in control of 30 percent of Syrian land. Let the revolution continue, with its civilized approach, to fulfil its bright image through maintaining the unity of the country and its coherent social fabric and through preserving institutions of the state, its vital facilities and infrastructure."
That 30 % figure cannot be verified but opposition forces seem to be putting up a strong fight in the most populous city in Syria Aleppo, this unverified amateur footage, shows rebels claiming they have captured more tanks from government forces. Reports also surfacing that fighters from Libya veterans of the countries uprising are helping the Syrian opposition with training, communications and tactics.
Into this chaos the UN's Humanitarian chief who is here as part of push to get more aid into Syria and to the people who really need it. She urged both sides to think of the families trapped in the middle of the fighting and says their numbers are growing.
Valerie Amos, UN under SEC. GEN. - Humanitarian Affairs said, "We have a situation where there is an ongoing humanitarian crisis. Three months ago, we thought that there were about a million people who were in need of assistance. We're now having to revise that number to about 2.5 million."
The Syrian opposition has been urging Western powers to impose a no-fly zone over parts of the country to keep Syrian jets from the sky but the US is not keen.
US Defense Secretary Leon Panetta says the idea is quote " not on the front burner", as with Iraq and Libya a no-fly zone could mean a dramatic escalation of the conflict, something no country seems to be contemplating right now.
Editor:Wang Shuo |Source: CCTV.com