Watch Video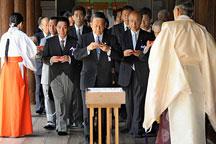 Play Video
The visits to the Yasukuni Shrine by two Japanese cabinet ministers have met with caustic criticism by major media outlets in South Korea. South Korea's Daily News said in an editorial that Japan lacks a thorough reflection on its crimes committed during World War Two. The editorial says the visits have seriously hurt the trust between the two countries.
DPRK state media called the ministers' actions an " intolerable insult and mockery of the Asian people who suffered a lot due to the atrocities of Japan." A Reuters commentary also spoke of the lack of reflection by Japan.
It says such an attitude can never gain forgiveness from its close neighbors, and increases uncertainty in Northeast Asia. Analysts say Japanese politicians often resort to visiting the Yasukuni Shrine for political gains. They say a rational government should not jeopardize bilateral relations for partisan interests.
Related stories
Editor:Wang Xiaomei |Source: CCTV.com