Watch Video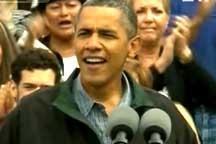 Play Video
The US Presidential campaign trail continues to heat up over some key issues,. both President Barack Obama and the Republican Vice Presidential candidate debated cuts to a national social insurance program, a healthcare program for elderly Americans.
Ryan, "I want to introduce you to my mom."
U.S. Vice President candidate, Paul Ryan invited his mom on the campaign trail, Saturday, to accuse President Barack Obama of taking money from the American healthcare program for the elderly and disabled...known as Medicare
Rep. Paul Ryan, US Vice Presidential Candidate, said, "Medicare was there for our family, for my grandma when we needed it then. And Medicare is there for my mom she needs it now, and we keep that guarantee."
Campaigning in New Hampshire, President Barack Obama - shot back, defending his plan and attacking Ryan's plan for healthcare which proposes partial privatization through vouchers.
Barack Obama, US President, said, "Since I have been in office, I have strengthened Medicare. I have made reforms that have extended the life of the program, that have saved millions of seniors with Medicare hundreds of dollars on their prescription drugs. "
"Now when you need it, Obama has cut $716 billion from Medicare."
The war of words began with this Romney campaign ad accusing the president of using that 716-billion to pay for his 2010 healthcare plan.
"Obama care cracks down on Medicare waste, fraud and abuse and strengthens guaranteed benefits."
Three days later, the Obama campaign responded with this ad in eight states critical to a presidential win.
That number - 716 billion - comes from this Congressional Budget Office report which acknowledges that the president's healthcare plan would cut Medicare spending in that amount, but it does NOT mention a cut in Medicare benefits.
Related stories
Editor:Zheng Limin |Source: CCTV.com