Watch Video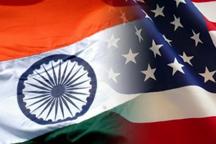 Play Video
Outsourcing has been a hot-button political issue in the US for at least a decade. But outsourcing is undergoing dramatic changes - reflecting a shift in the US-India business relationship. And credit card companies like American Express are bringing jobs back to US shores in response to customer concerns.
President Obama's re-election effort includes attack ads like this. Mitt Romney's companies were pioneers in outsourcing US jobs to low-wage countries.
Republicans say the President's poor job performance is the real reason for stubbornly high unemployment.
Indian entrepreneurs Zainab Zaki says her company TappedIn has has become a job multiplier in the United States. As a former outsourced worker in India, she's unhappy with the stereotype.
Zainab says her previous experience in outsourcing for US firms in India, provided her with valuable experience.
Zainab Zaki, Indian entrepreneur said, "From the perspective of Indian industry and the Indian worker job market, that was great work. We had some of the best salaries, the highest salaries, the highest hikes, the best working environments, great people to work with, really good opportunities to learn more, to get insight into the work culture of another country, to solve interesting problems and to work on cutting edge technology."
Tech entrepreneur PV Boccasam who's spent two decades at the top of his industry here says many Indian companies are reversing perceived trends.
PV Boccasam, general partner of Novak Biddle Venture Partnerships, said, "A lot of the Indian outsourcing companies are finding a very serious shortage of really good talent in their home countries. So they are establishing, by the virtue of states in the US giving them free land, free power, free buildings in some case, to have the Tatas or the Infosys of the world hire local talent in local places, because it is more financially lucrative for them to hire local people in local places and do things that are local to state governments and state businesses, and create jobs in the US. So the idea everything is being outsourced or offshored is completely taken out of context."
Indian multinationals like the Tata, which now owns brands Jaguar and Range Rover has increased US hiring in its consultancy arm, partnering with firms like Citibank, Dow Chemical and Hilton hotels.
Business ties between the US and India are now more complex and interconnected than ever, a pattern which will only increase as US firms seek to take advantage of rapidly expanding domestic consumption in India.
Editor:Zhang Dan |Source: CCTV.com