Watch Video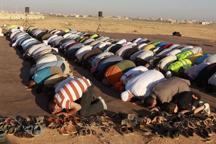 Play Video
As the holy month of Ramadan ends, Muslims around the world are marking the three day festival of Eid al-Fitr with feasts, family visits and raucous celebrations. But it's a different story for Syrians who've fled the fighting at home to seek sanctuary in neighbouring Jordan.
For these Syrian children the troubles at home seem far from their minds, but behind the smiles and laughter lie many sad stories.
Cradling his son Ammar, who lost an arm and a leg, when their home in Darra was hit by a rocket. Yasser Ahmed says its hard to feel festive this year.
Yasser Ahmed said, "What can we say We have war in Eid at home and here in Jordan we don't feel comfortable because we are refugees, away from our families and our homes."
As for Ammar, he says all he wants is to be able to play with his friends.
Here in northern Jordan, just across the border from Syria... families are trying to make life as normal as possible, but they say it is hard to celebrate Eid as a refugee.
At this refugee house there are no signs of festivities and the men here say they it doesn't feel like Eid at all.
Amjad Hurany said, "Usually every year we spend Eid with our families but this year we feel it's not Eid. It's the Eid of broken hearts. Nobody is happy this Eid."
And at the nearby mosque, Eid prayers are combined with funeral rites for Bilal al-Hariri who was injured in Syria last month, brought to Jordan for emergency medical care... but succumbed to his injures yesterday.
It's the twelfth such funeral in the past month... a reminder for those left behind that even though they are safe in Jordan; the war at home is never far away.
Editor:Zhang Dan |Source: CCTV.com