Watch Video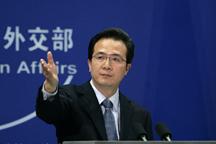 Play Video
China has expressed strong displeasure at the Japanese leader's remarks on the Diaoyu Islands. Chinese Foreign Ministry spokesman Hong Lei says that it "sabotages China's territorial sovereignty."
Yoshihiko Noda had earlier told Japanese press that the Diaoyu Islands were part of Japanese territory. He added that the Meiji government integrated them into Japan in 1895.
Chinese Foreign Ministry spokesman Hong Lei stressed that the Diaoyu Islands and surrounding islets have been the inherent territory of China since ancient times because they were first found, named and used by the Chinese.
The earliest historical record of the Diaoyu Islands can be dated back to China's Ming Dynasty (1368-1644) in a book titled "Departure Along the Wind" , published in 1403. The book records the first usage of "Diaoyu Islet" and "Chiwei Islet" . Hong said the names refer to the current Diaoyu Islands and Chiwei Islet.
He went on to say that Hu Zongxian, the Zhejiang governor of the Ming Dynasty, placed the Diaoyu Islands and surrounding islets within China's maritime defense system.
Hong said it demonstrated that these islands were at least within China's maritime defense sphere since the Ming Dynasty.
Japan made its claim of sovereignty during the Sino-Japanese War of 1895, seizing the islands by illegal means. Hong added that claiming the Diaoyu Islands were inherent territory of Japan is totally groundless.
According to the spokesman, the Cairo Declaration issued after World War II regulated that all territory illegally taken by Japan, including China's northeast, Taiwan and Penghu islets, must be returned to China.
In August 1945, Japan announced its unconditional surrender under the terms of the Potsdam Declaration. Hong said it means Japan must return Taiwan, the Diaoyu Islands and surrounding islets to China.
On Sept. 18, 1951, then Chinese Premier and Foreign Minister Zhou Enlai made a solemn statement on behalf of the Chinese government that the Treaty of Peace with Japan signed in San Francisco of the United States was illegal and invalid, and it absolutely would not be recognized without the participation and signing of the People's Republic of China.
In June 1971, Japan and the United States signed a pact to hand over Okinawa to Japan. Diaoyu Islands were mapped into the handover area. Hong called the move a private transaction of Chinese territory. He said China's Foreign Ministry announced on Dec. 30 1971 that such a move was "totally illegal" and reiterated that Diaoyu Islands and surrounding islets were "an integral part of the Chinese territory".
Related stories
Editor:Du Xiaodan |Source: CCTV.com