Watch Video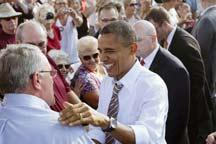 Play Video
US President Barack Obama and his Republican opponent Mitt Romney have traded barbs at campaign events. Speaking at a rally in Cincinnati, in the state of Ohio, Romney compared Obama's economic policies to a coach with a losing streak. In Sioux City, in the state of Iowa, Obama declared that Romney "did not offer a single new idea" to fix the economy.
Mitt Romney, Republican Presidential Candidate, said, "He made a lot of promises. And I noted that he didn't keep a lot of promises. One of the promises he made was he was going to create more jobs. Today 23 million people are out of work or stopped looking for work or are underemployed. Let me tell you, if you have a coach that's zero and 23 million, you say it's time to get a new coach."
Barack Obama, US President, said, "When Governor Romney had his chance to let you in on his 'secret sauce' (referring to his ideas for fixing the economy), he didn't offer you a single new idea. It was just a retread of the same old policies that have been sticking it to the middle class for years."
Related stories
Editor:Zheng Limin |Source: CCTV.com