Watch Video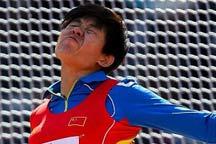 Play Video
Whether it's on the track, in the pool, or at the table tennis, Chinese athletes at the Paralympic Games in London are superb.
For Wu Qing, who competed in the women's discus days ago, her wait for gold was a little longer than most. Due to a failure in the measuring system, Wu was awarded a silver medal on August 31.
The Paralympics committee then corrected the result on appeal, relegating the Ukrainian champion to silver. Wu was eventually awarded China's first gold medal in field events with a new ceremony held on Sunday. The relegated Ukrainian did not attend the ceremony and the Australian athlete remains in third place.
Editor:Qin Xue |Source: CCTV.com