Watch Video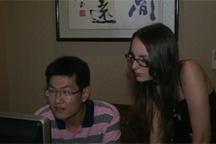 Play Video
Suzhou in east China, has been called the "Venice of the East" for its waterways and romantic atmosphere. But it has another, lesser known, aspect. It plans to become a top industrial hub in China. Our team met two residents who represent both aspects of the city.
Along this quiet canal, there is nothing to disturb us. The old song sung by this old lady is like a lullaby to our ears. This is Suzhou, a medium-sized city in Jiangsu Province.
The town center goes on quietly, to the rhythm of water flowing into the multiple canals that criss-cross Suzhou. Along the banks, shops sell local crafts: silk embroidery, paper fans.
To Yu Qian, coming back to old Suzhou is a good way to escape the hectic activity of a long, arduous work week.
It's this relaxed rhythm of life, this calmness that people seek here in Suzhou.
Yu Qian said, "I love this town. You know, working five long days in the Industrial Zone is exhausting. Of course I like taking a walk in the big malls, treating my friends in a western-style restaurant. But I also like to calm down a bit and take some time for myself, especially at weekends. I often need to get back to normal."
Nowadays Suzhou is not just an Eden for tourists. It's a garden of skyscrapers - each vying to outdo its neighbour. In the New Industrial Town, to the east of the old town center, a mass of Chinese and foreign industries specializing in high technology and nanotechnology have dramatically increased the city's development.
Yu Qian said, "From the town center where I live, it takes me one hour by car to get to work. This is my company, Snecma. I'm afraid I can't take you inside it. The company has very strict rules and regulations. Here we build airplanes engines components - so you'll understand there is a 'Top Secret' dimension."
Xu Lei has welcomed us to his apartment in Suzhou's town center. His wife makes us a fragrant cup of green tea. All the pictures on the wall show how they met and fell in love with each other when both of them were students in France.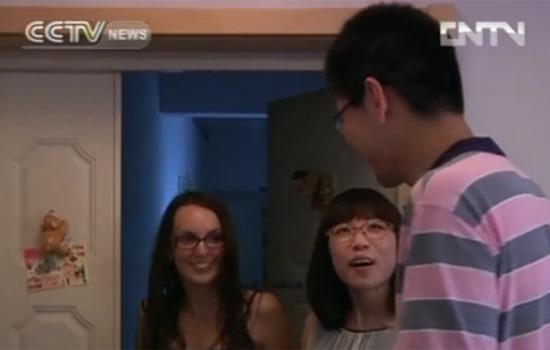 Xu Lei welcomeds correspondent to his apartment in Suzhou's town center
Every afternoon, Xu Lei sits in front of his computer to run the two hotels he owns. On the screen, we can see that the daily turnover is good. Unlike his wife, he chose a more traditional style to decorate his office. The best moment of the day for him? Sipping a cup of tea while watching his beloved city. This relaxing atmosphere helps him concentrate on his work. We can be sure of one thing: whether they are traditional or trendy, the hospitality of Suzhou's inhabitants is incomparable. It's hard to leave the city, after such pleasant encounters.
Editor:Wang Shuo |Source: CCTV.com