Watch Video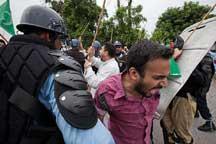 Play Video
By CCTV correspondent Danial Khan
Protests are raging once again in the Muslim World over the anti-Islam movie posted online last week. The Pakistani government announced a public holiday to observe a day of love Friday for the Prophet Muhammad. But despite the Prime Minister's appeal for "peaceful" demonstrations thousands of angry protesters took to the streets of Islamabad..burning buildings, destroying property, and killing at least 19 people.
The United States has asked its diplomats not to leave their premises and stay alert as security in and around diplomatic enclave has been beefed up. Yesterday saw deadliest clashes between police and angry activists. The law enforcement agencies were unable to handle the mobs. They demanded that the people involved in production of the anti Islam film should be charged or handed over to Pakistan.
Lt. Gen. Hamid Gul, Fmr Director General, ISI, said, "The government should demand from America that they should hand over the culprits because they have committed crime against Islam and it is American tradition that if any action r crime takes place against America then no matter which country is involved that person would be subject to American law."
Meanwhile the American Embassy in Islamabad, in a bid to calm down public rage over this anti-Islam film produced in the U.S, is spending $70,000 to air an ad on seven Pakistani television channels, to disassociate the US government from the inflammatory film.
The ad features President Obama and Secretary of State Hillary Rodham Clinton denouncing the video. The comments are in English but subtitled in Urdu, the main Pakistani language. The authorities and city administration called the army and the paramilitary to control protesters who were trying to make their way to the US embassy.
Despite government's appeal, the protesters continued to break and damage public property, chanting anti-American slogans, burning flags and effigies.
"US flags and effigy of the U.S president Obama are being burnt on the streets of Pakistan. The protesters say if the producers of the film are not brought to justice, they will continue to protest and they say that the government needs to break all diplomatic ties with the United States of America. Danial Khan, CCTV, Islamabad."
Editor:Zhang Pengfei |Source: CCTV.com