Watch Video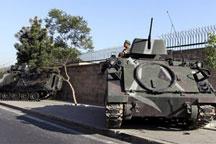 Play Video
The French Foreign Ministry says it will continue strengthening security at its embassies in some Muslim countries.
French Embassies, schools and cultural centres in 20 countries were closed Friday over security concerns.
Meanwhile, around a hundred Muslim protesters gathered outside the French embassy in London on Friday. The incidents were triggered by the publication of cartoons depicting the Prophet Muhammad in a French satirical magazine.
The magazine, Charlie Hebdo, published the cartoons Wednesday, fuelling earlier protests over the film "Innocence of Muslims" which have raged since September 11, leaving nearly 50 people dead.
Editor:Zhang Pengfei |Source: CCTV.com