Watch Video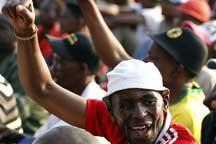 Play Video
By CCTV correspondent Guy Henderson
Strikes are continuing at four South African mines run by the world's top platinum producer Anglo American Platinum. Less than 20 percent of the workforce is reporting for duty.
Workers at a South African mine run by world number 3 bullion producer, AngloGold Ashanti, are the latest to strike over pay. Anglo gold's night shift staged an unexpected strike at Kopanang and the morning shift didn't go down either. The AngloGold disruption comes a day after thousands reported back for work at platinum producer Lonmin. Guy Henderson reports from Johannesburg.
Not out en masse but not in work either. Buoyed by events in Marikana, the strikes are spreading - Anglo Gold Ashanti's Kopanang mine in the Free State, the latest to halt production. Management are playing this down but they wouldn't let us speak to the workforce.
A similar story at Gold Fields - itself one of the world's major gold producers. Employees won't budge on a wage demand of 1,500 U.S. dollars a month - the exact amount agreed at Lonmin.
In this case the management says it won't negotiate - a deadlock that's ground production to a halt. Anglo American Platinum mines are also being disrupted. That just as Lonmin miners head back to work - at the place where all this started now more than a month ago.
Guy Henderson, said, "The workers here at Anglo Gold Ashanti haven't yet tabled their demands to the management. But if and when they do, they won't be doing it through their union - once again, these are wildcat strikes. South Africa's waning economy can ill afford for this to keep getting worse. But right now there's no authoritative single negotiating partner …unless the unions can re-gain the initiative. Guy Henderson CCTV. "
Editor:Zhang Pengfei |Source: CCTV.com