Watch Video
Play Video
By CCTV correspondent Shweta Bajaj
Indian Prime Minister Manmohan Singh has defended his economic reforms, saying they are necessary to fight an economic slowdown in India. The reforms include allowing foreign supermarket giants to buy large stakes in India's retail sector.
They are fiercely opposed by trade unions and have prompted a coalition ally to resign from the government. Manmohan Singh insists the changes are needed to revive investor confidence. Our correspondent in New Delhi Shweta Bajaj reports.
All eyes were glued to the television as the Indian Prime Minister addressed the nation explaining the government's new thrust on economic reforms.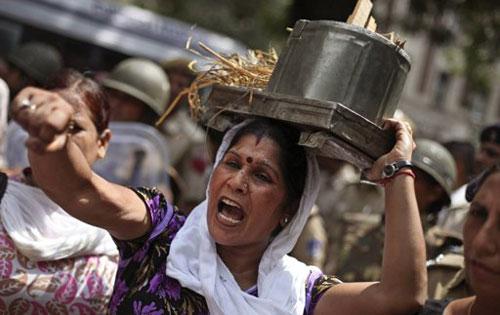 An activist of India's main opposition Bharatiya Janata Party (BJP) shouts
slogans as she carries an old cooking stove on her head during a protest in
New Delhi, India, Saturday, Sept. 15, 2012. (AP Photo/Altaf Qadri)
Recently India introduced foreign direct investment in multi-brand retail, aviation and broadcast industry. The new economic reforms led to protests around the country coupled with its own allies pulling out reducing the ruling congress coalition to a minority government.
Dr. Manmohan Singh, Indian Prime Minister, said, In a growing economy, there is enough space for big and small to grow. The fear that small retailers will be wiped out is completely baseless.
It's been a week of drama in Indian politics where one of the allies - Trinamool congress pulled out of the coalition taking away its 19 seats. Currently the Indian government has 254 seats out of 545. Despite the crisis, the Indian government is likely to get outside support from other political parties.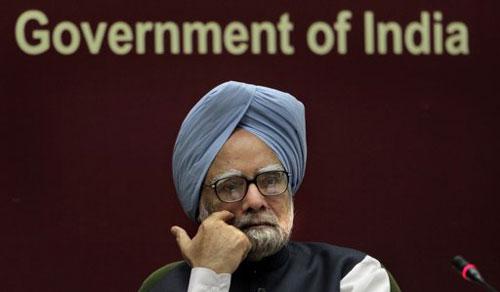 In this Tuesday, Nov. 23, 2010 file photo, Indian Prime Minister Manmohan Singh
listens to a speaker during a conference in New Delhi, India.
(AP Photo/Manish Swarup, File)
Mamata Banerjee, Leader of Trinamool Congress, said, "This is terrorism. One day we wake up to find diesel had gone expensive and the next day petrol and the third day gas goes expensive. This government has lost touch with reality and no more does it understand how a household is run."
In retaliation to its ally pulling out the Indian Prime minister said it's time for tough decisions.
Manmohan Singh, said, "I promise you that I will do everything necessary to put our country back on the path of high and inclusive growth."
His speech was broadcast hours after Mamata Banerjee and her party, the Trinamool Congress, pulled out over the Indian government's decision to introduce FDI in multi brand retail and increase in prices of diesel and cooking gas.
Next week will see number games in India's political circles which the congress led government will have to play to avoid early elections.
Editor:Zhang Pengfei |Source: CCTV.com