Watch Video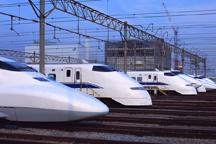 Play Video
By CCTV reporter Lin Nan
China has experienced rapid expansion of its high speed rail network over the past decade. It is evidence of the improvement of China's scientific and technological level as the country becomes stronger.
It is a Friday morning at Beijing South Railway Station. Engineer Shen Rong is going to visit a client in Tianjin, but he doesn't have to sacrifice his weekend for the journey like he used to. The Beijing-Tianjin Intercity Railway opened in August 2008 and has made his life a lot easier since then.
Shen Rong, engineer, said, "The single journey took me 2 hours on coach before and that meant I had to stay overnight in Tianjin. Now the journey takes just 30 minutes, and I can finish the trip within the normal 9-5 working hours."
The railway has also changed people's lifestyles - working in one city and living in another has now become possible.
Guo Siyi, passenger, said, "I work in Beijing and live in Tianjin, and commute between the two cities everyday. I couldn't imagine this before the era of high-speed rail."
In 2004, China started the construction of its high speed rail network. The initial HSR trains were imported or built by foreign train-makers. Through technology cooperation and transfer agreements, Chinese engineers later re-designed internal train components, building homegrown trains. Now China holds thousands of local and international patents for HSR technology.
The Beijing-Tianjin Intercity Railway not only shortens the commute between the two largest cities in northern China, it also marks an important milestone - it was the first high speed railway for which China holds the proprietary intellectual property rights.
50-year-old Jia Limin has been witnessing and participating in the development of HSR technology in China.
Prof. Jia Limin, HSR expert, Beijing Jiaotong Univ., said, "We have our own patents and don't have to rely on foreign companies in key areas, such as running systems, safety control and internal communication. China has a talent pool which includes over 10,000 scientists and engineers from top universities, research centres and train-making companies that improve HSR technology, as well as an efficient innovation module to boost the transfer from lab results to HSR construction."
Like Jia Limin and his staff, Chinese engineers are dedicating themselves to the safety and sustainability of China's HSR.
China's high speed rail system has expanded rapidly in the past decade. It has brought great improvement to people's quality of life and kept the economic lifeline flowing. This accomplishment is greatly attributed to the innovation of technology and the people behind it.
Related stories
Editor:Zhang Dan |Source: CCTV.com