Watch Video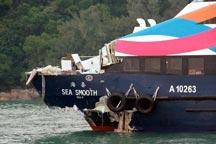 Play Video
The HK Special Administrative Region has held a press conference on the accident. And an investigation is underway. Local authorities have promised there will be no repeat of such a tragedy.
The deadliest accident in more than a decade.
The Hong Kong SAR's Chief Executive, Leung Chun-Ying, declared October 4th to the 7th as days of mourning, and has called for the region's flag to be flown at half mast.
He said, "I have ordered the social welfare department, home affairs department and hospital authorities to start work immediately. They will offer every family and individual the help they need and directly contact families of the victims. The Marine Department has been investigating the cause of the incident. And the police have also been looking into possible criminal damage."
The injured have also been well taken care of at local hospitals. Earlier, Leung Chun-ying visited survivors.
He said, "I express my condolences to all of the injured people and their families. The most important thing now is to focus on our rescue operations. We're doing everything we can to take care of those who have been rescued by the air service team and our boats."
On Tuesday, Hong Kong police arrested seven crew members from the two boats.
Tsang Wei-Hung, Hong Kong Police Commisioner, said, "We've come to the suspicion that the crew responsible for manning the two vessels has not exercised the care required of them by law to ensure the safety of the vessel that they are navigating as well as the people on board their vessels. It is on this basis that they've been arrested to assist police inquiry."
The commissioner says the investigation will focus on criminal liability, and will assist the Coroner Court if a death inquest is to be held.
Tsang Wai-hung says the police will use radar data in the investigation.
Editor:Zhang Jingya |Source: CCTV.com