Watch Video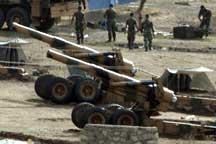 Play Video
The Turkish army has once again fired at targets across the border with its neighbor, for a third straight day. This comes after another Syrian mortar shell fell in a non-residential area in the southern Turkish province of Hatay.
The exchanges began on Wednesday, when Syrian mortar shells killed five residents of a Turkish border town.
Then on Thursday, the Turkish parliament approved a motion backing cross-border military operations. With the tension ramping up over recent days, there are growing fears that the crisis will now spread outside Syria's borders. Matt Stuttard takes a closer look.
What was once concern and speculation appears to be turning into reality.
A third straight day of sporadic fire between Syria and Turkey is stoking fears of a regional conflict.
But that's something nobody wants including those leading Syria's opposition fighters.
Commander Abu Halel, Free Syrian Army, said, "We do not want Turkey getting into a war with Syria. But we want humanitarian aid, such as bread, water, food, medicine. Thank God Turkey has helped us a lot."
On Wednesday, Syrian troops fired a mortar bomb into Turkey. It landed in a residential district of the southeastern Turkish town of Akcakale. A woman and four children from the same family were killed, and at least eight other people wounded.
In retaliation, Turkey fired back at targets in Syria.
Syria apologized to Turkey for Wednesday's mortar attack, saying such incidents will not be repeated.
But on Friday, another mortar landed inside Turkey from the Syrian side and the exchanges have now continued for a third straight day.
Turkish people living near the border with Syria are anxious.
Hasan Akbay, Akcakale Resident, said, "We've not been able to sleep in our homes during the past 15 days. We went to another village with our children. Now we are good after our Prime Minister has intervened."
Since the initial attack, Akcakale has become calmer. Most people have now returned home after a few tense days.
However, the bloodshed and violence on the other side of the border, shows no sign of letting up. In the chaos, many people in Turkey fear that this week's attacks may not be the last.
Editor:Zhang Pengfei |Source: CCTV.com