Watch Video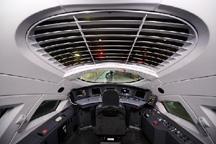 Play Video
The high-speed railway uses new equipment and materials to help it keep running smoothly despite the region's sometimes harsh conditions. And by making travel easier, it is also expected to help revitalize the region. James Kim explains.
The high-speed railway can travel at 350 kilometres per hour in minus forty degrees Celsius.
The railway runs across three northeastern provinces, from Harbin at the north end down to the coastal city Dalian.
The new line is 921 kilometres long and has 24 stops, covering other major cities along the way.
To keep the train running smoothly, many new materials are used in the train.
Gao Baijiang, Director, High-Speed Railway TECH. Application Center said, "This is the dump-tank system of the train. We use new cold-resistant materials and heat-tracing materials too. They are energy efficient and keep the temperature in the train consistent and comfortable."
Another challenge is to prevent snow from disrupting the train's operational system. To achieve that, new snow-melting facilities are installed in the equipment bay.
The train can carry over 550 people with 8 carriages.
No fire can be used on the train, so all the food is heated with microwaves.
Special facilities are also in place to help the disabled. Their restrooms are two times the size of those for ordinary passengers.
The railway is expected to make travel easier and to bring economic benefits to the region.
Zhao Wenguo, General engineer, Shenyang Railway Bureau said, "The opening of Harbin-Dalian high-speed railway means we have a more complete railway network in Northeast China. The railway routes connect major cities in the region. It makes it more convenient for people to travel, and will help to revitalize the old industrial base in the region."
The high-speed line will cut travel time between the cities by as much as 9 hours. It is scheduled to begin operation at the end of this year.
Related stories
Editor:Wang Shuo |Source: CCTV.com