Watch Video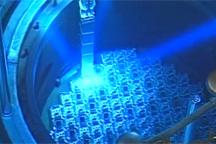 Play Video
By CCTV reporter Michelle Xing
As China's economy grows, so does the need for power. In fact, power shortages in the most industrialized provinces were not uncommon in recent years. And it is clear that the country needs to generate more. With increasing concerns about air quality, climate change and fossil fuel shortages nuclear energy is being looked to as an alternative to coal to power up the country. Michelle Xing brings us a closer look at the future of nuclear power in China.
Currently less than 2 % of China's energy needs is supplied by nuclear power, as opposed to 14% globally, and close to 80% in France.
As of 2012, the nation has 16 nuclear power reactors. And 26 are currently being built.
The National Energy Administration said, "China will make nuclear energy the foundation of its power generation system in the next 10-20 years." Which adds as much as 300 gigawatts of nuclear capacity over that period.
This sounds like a lot. But China also DOES need a lot. Electricity consumption rose 11.7 percent in 2011, according to the National Energy Bureau.
Right now, most of China's electricity is produced from fossil fuels and hydropower. But rapid growth in demand has given rise to power shortages, and the reliance on fossil fuels has led to much air pollution.
As much as the country may want to expand on wind and solar energy, the amount these sources can produce is very limited.
Some experts say, the only way to meet demand for clean energy is the nuclear way.
Zhou Dadi, Vice President, China Energy Research Society said, "Nuclear power in China is an absolute necessity both in the short and long term. Energy demand is increasing continuously. We can't only rely on fossil fuel anymore. Using nuclear power to support the increasing power demand is economical and environment-friendly. The technology is also relatively mature. We hope in the future, we can increase the percentage of electricity produced by nuclear power to 20-30 percent. And under steady development, I predict we can produce 150-200 GW by 2030.
Safety also flashes to the forefront of concerns when talking about nuclear power. Following the Fukushima nuclear disaster in Japan, China announced plans to freeze all nuclear plant approvals, and to thoroughly check the safety of existing reactors including those under construction. But some worry that the suspension would only delay development progress.
Zhou Dadi said, "China has suspended approvals for a year and a half now. But suspension doesn't necessarily lead to improvement in technology. After the safety check we didn't find any major problems in the existing reactors or the ones under construction. If this keeps going, it won't help with the quality of construction, operation or production capacity."
Zhou adds that nuclear power plants, if constructed properly, are relatively safe.
As far as China's capability is concerned, the country is rapidly becoming self-sufficient in reactor design and construction, as well as other aspects of the fuel cycle.
Although international cooperation and technology transfer are very well encouraged, the country aims to maximize self-reliance on nuclear reactor technology manufacturing and design, to make producing nuclear power less costly.
Related stories
Editor:Wang Shuo |Source: CCTV.com