Watch Video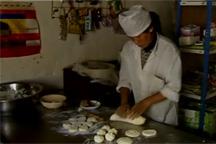 Play Video
By CCTV reporter Wu Nina
In the Tibet Autonomous Region, 80 percent of the population still make a living through farming and herding, with many living in poverty-stricken conditions. In recent years the local government has been working hard to promote a series of beneficiary projects to improve people's livelihoods. Our reporter Wu Nina visits Dazi County of Lhasa and brings us the story about one local "entrepreneur" who benefited from such programs.
39-year-old Yang Jin is a single mother living in Dazi County, 20 kilometers from the regional capital of Lhasa.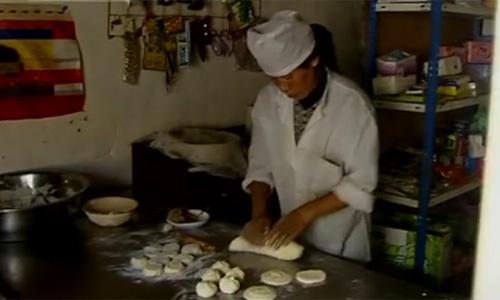 39-year-old Yang Jin is a single mother living in Dazi County,
20 kilometers from the regional capital of Lhasa.
To raise her 10-year-old son, she used to work in the city but earned very little.
Last November, a call from the village head changed her life, which eventually led to her opening up a bakery shop.
Yang Jin, Dazi Bakery shop owner said, "I was offered the chance to take labor training. It was then that I began to master the skills of traditional Chinese baking. I got the qualification and started this little shop with the government's help. They bought me the cooking equipment and other facilities and even helped me advertise the shop. I'm very grateful."
Making steamed buns, and buttered tea are now part of Yang Jin's daily routine.
Her shop is now one of the main suppliers for the local schools and village. Her monthly profits have exceeded 6 thousand yuan.
Wu Nina, Dazi, Tibet said, After receiving job training from the local government, people like Yang Jin have learned new skills to earn a better life. They have become their own boss and have high hopes for the futures.
Yang Jin told me that local authorities have kindly allocated a plot of land to her, so she can build a new home. But her next plan is to expand her business.
Yang Jin said, "Once the new shop is built, I'm going to hire students to work at my shop. I'd like to help other poor people living in bad conditions, to repay society."
Many low-income residents in Tibet have attended poverty-relief programs. Scores have successfully moved from being farmers to other skilled jobs through various trainings programs.
Ci Ren, Deputy Director, Lhasa Poverty Relief Office, Tibet said, "We have invested more than 100 million yuan this year in over 100 poverty-relief projects in Lhasa. They have been implemented practically to every village and household in need, covering areas like crop farming and other agricultural projects."
These projects have brought significant benefits to poverty-stricken areas in Tibet. People are willing to transform old ways to earn a better living for themselves and their families.
Editor:Wang Shuo |Source: CCTV.com