Watch Video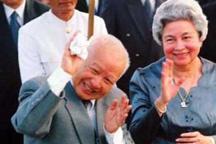 Play Video
Former King of Cambodia, Norodom Sihanouk, was a good friend of China, devoting himself to friendly relations between the two countries.
China and Cambodia established diplomatic relations in July, 1958.
A month later, Sihanouk led a delegation to China. He visited Tianjin and three north-eastern provinces and northern Hebei prince accompanied by then Premier, Zhou Enlai. China had just launched an aid project to Cambodia.
In April 1960, Sihanouk's father, King Norodom Suramarit died. Premier Zhou Enlai left for Phnom Pehn and expressed condolences over Suramarit's death.
In December the same year, Sihanouk, in his capacity as head of state, paid a visit to Beijing with his wife, Princess Monineath. The two sides signed the Sino-Cambodia Treaty of Friendship and Mutual Non-Aggression.
On March 19th, 1970, while Sihanouk was out of the country travelling, Prime Minister Lon Nol staged a coup, deposing Sihanouk as head of state.
Premier Zhou Enlai welcomed Sihanouk in exile to China and said the Chinese government would never acknowledge the Lon Nol government.
On April the 17th, 1975, Lon Nol stepped down and Sihanouk was allowed back into the country that August. Chairman Mao Zedong and Premier Zhou Enlai asked Deng Xiaoping and Ye Jianying to see Sihanouk and his family members off.
Before Sihanouk returned home, he wrote a song, "Ah, China, My dear second homeland".
After that, he devoted himself to Sino-Cambodian friendly relations and visited China many times. He also made donations to areas in China affected by natural disasters. He was a figurehead for China-Cambodia friendship.
On April 30th, 1999, Sihanouk and his wife attended the opening ceremony for China's Kunming International Gardening Expo.
He also attended the Beijing Olympics in 2008.
On October 1st, 2009, Sihanouk and his wife attended the National Day reception to celebrate the 60th anniversary of the People's Republic of China and the ceremonial parade.
Sihanouk has stood at Tianan'men Rostrum six times, with Chinese leaders, more than any other foreign head of state.
Related stories
Editor:Zhang Rui |Source: CCTV.com