Watch Video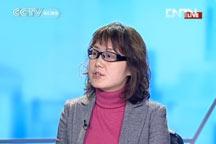 Play Video
For more insight, we're joined in the studio by Ms. Zhang Weiwei. She is an assistant researcher at the China Institute of International Studies.
Q1: What do you think the Japanese government will likely do next to handle the territorial dispute as it faces increased domestic opposition?
Q2: The dispute seems to be straining Japan's relations with both Europe and The United States. Will this influence Japan's position on the Diaoyu Islands dispute?
Thank you. We'll speak to you again shortly.
Editor:Wang Xiaomei |Source: CCTV.com