Watch Video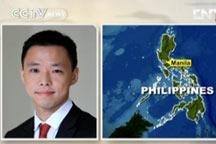 Play Video
US troops were involved in the 29th Philippine-US Amphibious Landing Exercise with Philippine marines at Crow Valley in Tarlac earlier this month. The two-week exercise, was reportedly to strengthen regional security and improve the two countries' humanitarian assistance and disaster response. For more on this, let's speak to our correspondent Barnaby Lo in Manila. Hello, Barnaby.
Q1: The Philippine government has reportedly authorized the US to use Subic Bay International Airport as its air base. But just one year ago, the Philippine Senate voted against the extension of the US-RP Military Base Agreement. What's the implication of the Philippine decision?
Q2: What's the impact of the increasing US military presence in the Asia-Pacific?
Editor:Wang Xiaomei |Source: CCTV.com