Watch Video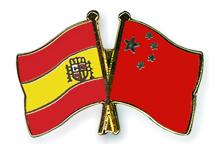 Play Video
By CCTV reporter Constantino de Miguel
European countries are suffering their worst downturn in decades. Now, they're looking to China for more trade. Constantino de Miguel attended a meeting of scholars in Madrid, devoted to nurturing trade with China.
"China an Economic Superpower", a two-week seminar in Madrid underlined the importance of China as export destination and origin of growing investment and tourism. The Spanish ambassador highlighted that China can count on Spain, on Europe and on the Euro currency.
Eugenio Bregolat, Spanish Ambassador to China said, "It would be a mistake to think that the euro is finished, the Europe is finished. Europe will come on top of this crisis stronger economically and politically. Well, in order for us to get out of the crisis we have to export as much as we can and we have to continue on internationalizing our economy."
The edior of the magazine Global Asia says that 5 years of downturn in Spain have set off a fall in prices, improving the export position of the European country and attracting foreign investment namely from China.
Ivan Manez, Director, Global Asia said, "I think if we analyze the evolution of Chinese investments in Spain we can see a clear increase. A good example is China Telecom that has bought an important capital share from Telefonica. On the financial front, we have ICBC that opened up a key branch in Madrid and now is expanding in Barcelona."
Petrochemical, engineering and renewable energies are other sectors where cooperation is growing. The presence of a successful Chinese community in Spain is a bonus to increase trade an investment between both countries.
Ramon Tamamese, Spanish Expert said, "Chinese enjoy very much Spain. You know we have some 200,000 Chinese now living and working in Spain. They are very active and people they admire them. "
Constantino De Miguel, Madrid said, "For Spanish businessmen and scholars at this event, China rhymes with wealth and prosperity. And indeed Spaniards are looking for partnerships and joint ventures with the Asian country in their quest to overcome the current economic crisis.
Editor:Wang Shuo |Source: CCTV.com