Watch Video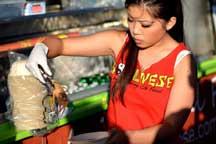 Play Video
By CCTV Correspondent YaKenda McGahee
Asian night markets are commonplace in Malaysia, China, Thailand, and the Philippines. But now they've come to a place known as America's first "Suburban Chinatown". CCTV's YaKenda McGahee reports from California's San Gabriel Valley.
Half-past dusk, just when the sun starts to set, the night begins to sizzle. As the masses weave amongst food stands and retail stalls filled with vats of frying fish balls and the bellicose sales pitch of savvy vendors.
And the familiar - some would say - foul aroma of fermented tofu permeates the crowded lot. These are the unmistakable sights and sounds of an Asian night market.
But this market is not in the Far East in fact it's located just about as far west as you can go in America - California's San Gabriel Valley.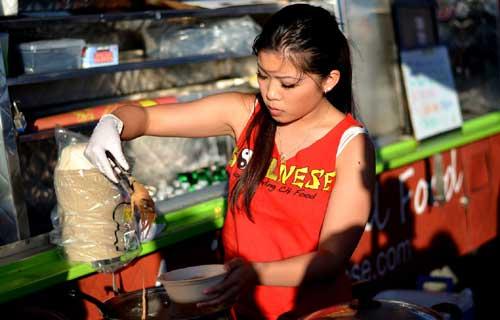 Asian night markets are commonplace in Malaysia, China, Thailand, and the
Philippines.
Johnny Hwang, Organizer, 626 Night Market, said, "Night markets you say those two words and it brings so many good emotions from the Asian people that live here. I think when we brought that here and people heard it, everybody thought 'finally'! That's what we need here. I think that's where the success came from."
Indeed - judging by the overwhelming attendance. The first market last Spring - brought an over-capacity crowd of over 20-thousand - 10,000 guests turned away. And it's estimated that this 3rd installment will surpass 100-thousand visitors.
Kelly "KP" Palmer, Night Market Performer, said, "Lots of food, lots of entertainment, lots of dancing. The Asian community just coming together and just having a great time."
"There's an interesting fusion of cultures here at this night market. You'll find things uniquely American like food trucks. And you'll find things uniquely Asian like bubble tea and drink bags, and then you'll find a hybrid of both, like 'spam musabi' or 'spam sushi.'"
And a bit of "Harajuku" Hip-hop featuring tokusatsu performers.
Robert Macaisa, Night Market Attendee, said, "Like going out to Chinatown or going to Koreatown, instead of that's it's like a bunch of different types of culture and different kind of people ."
While this eclectic mix of culture and cuisine hasn't translated into cash profits, yet the organizer says he certainly has a recipe here for future success. YaKenda McGahee, CCTV San Gabriel Valley.
Editor:Zhang Pengfei |Source: CCTV.com