Watch Video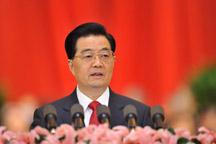 Play Video
General Secretary of the CPC Central Committee, Hu Jintao stressed the need for China to modernize national defense in an information age in his political report. This means taking full advantage of high technology.
He says China must unswervingly adhere to the principle of the Party's absolute leadership over the armed forces. And he re-affirmed the country's commitment to world peace.
He says, "We should unswervingly pursue full IT application as the goal in achieving military modernization and step up this effort. We should strengthen the development of new- and high-technology weapons and equipment, speed up the complete development of modern logistics, train a new type of high-caliber military personnel in large numbers, and intensively carry out military training under computerized conditions.
China pursues a national defense policy that is defensive in nature. Our endeavors to strengthen national defense aim to safeguard China's sovereignty, security and territorial integrity and ensure its peaceful development. China's armed forces have always been a staunch force upholding world peace."
Related stories
Editor:Zhang Jianfeng |Source: CCTV.com