Watch Video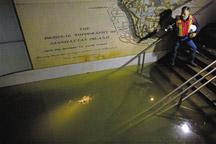 Play Video
By CCTV correspondent Daniel Ryntjes
Almost two weeks after Superstorm Sandy and hundreds of thousands are still without power in the United States. The death toll from the powerful storm has risen to over 100. But how many more were saved by timely warnings and evacuations are unknow.
A new nationwide emergency mobile phone system is seeking to improve the way Americans get real-time alerts in perilous situations like the one the US has just experienced.
As Americans across the East Coast continue the recovery after a direct hit from Hurricane Sandy, disaster experts are figuring out ways to save more lives in future. This year they've been rolling out a nationwide text alert system for mobile phones.
Chris Guttman, Vice President of CTIA-The Wireless Association, says, "So the idea is, it has to be an imminent threat. There's no early warnings when something isn't really expected, greater than fifty percent chance.
So the goal is to limit the amount of times that you call on this system, but when you do, it's for a real threat and people will respond. And I've seen that. I've received about six alerts already, and all of them have been either tornado, or significant flooding alerts."
The system is designed to help when quick action is required in a specific location. A system called amber alerts has been included, to call for help when a child has just been abducted or when a tornado is heading for a residential area, as it did in the city of Joplin, Missouri last summer.
Barry W. Scanlon, President of WITA Association, says, "People are moving around and with the technologies that we have now and people moving around so much, whether it's for business or to pick up the kids from school or anywhere in between, it's just a powerful tool for emergency management. We have so many people who travel for business, who travel on vacation."
That certainly was the case when Hurricane Katrina struck in the summer 2005 New Orleans and surrounding areas. A mobile alert system may have saved lives during the Indian Ocean tsunami as well.
Chris Guttman also says, "Imagine if you get an alert on a beach saying there is a tidal wave or tsunami coming . You can turn around and be an actor, a positive force and alert other people who might not have a wireless device on the beach."
Former US Navy SEAL Terry Grudi who was hit by a major snow blizzard caused by Hurricane Sandy in the mountains of West Virgina can see the benefit of the system, but not for him.
He says, "Where I live, we don't get cellphone services, so it's really irrelevant to me. I have to drive 5 or 6 miles before I can even get cellphone services, so it really wouldn't do me much good."
So when in another example, a wild fire is spreading, officials won't just rely on mobile phones, they'll continue to blanket traditional media with warnings and use schools and businesses to get the message across.
But such a mobile texting system does have the potential to be uniquely capable of saving thousands of lives because so many people now carry them around wherever they go.
Editor:Zhang Jianfeng |Source: CCTV.com