On Friday, the Oklahoma City Thunder played host to the winless Detroit Pistons. Detroit got off to a good start. Brandon Knight slammed down an alley oop dunk.
Oklahoma stayed close. A minute and a half later, Kevin Durant's three pointer helped the Thunder go up 16-15.
With four minutes to go in the second, the hosts went on a three-on-one break and Sefolosha for the layup. Oklahoma led 49-42 at halftime.
In the third, Durant stood out again, on his way to the hoop. He missed but Ibaka was there for the put-back.
Five minutes in the fourth, Kevin Martin went inside before putting the ball off the glass and in. Martin had 16 points off the bench.
Durant took over again in final seconds. He had a season-high 25 points and 13 rebounds and the Thunder defeated the Pistons 105-94.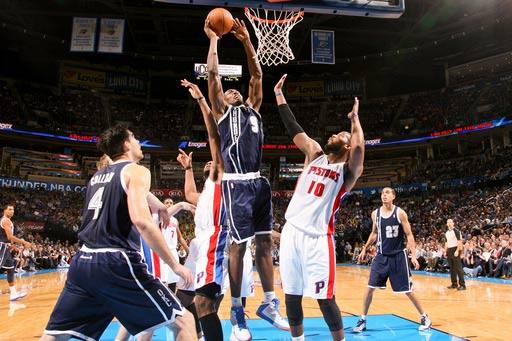 Thunder beat Pistons 105-94
Editor:James |Source: CCTV.com