Watch Video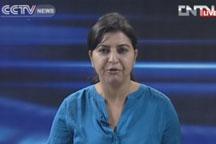 Play Video
Monday marks the fourth anniversary of the worst terrorist attack in India. The carnage lasted four days in the city of Mumbai, killing 164 people and wounding at least 300. And a few days ago, Ajmal Kasab, the lone gunman who was captured during the attack was hanged to death.
For more on the fourth anniversary of the Mumbai attacks, let's speak to our correspondents, Shweta Bajaj in New Delhi, and Danial Khan in Islamabad.
Q1, Shweta, how is Mumbai marking the anniversary?
Q2, What's the Indian government's plan as the masterminds behind the attacks are still at large?
Q1, Danial, has the Pakistani government made any comment or reaction to the anniversary?
Q2, As earlier Shweta said, the Indian government is negotiating with the Pakistan government on bringing the masterminds to justice, but there's been no result yet. So how will the Pakistani government cooperate with India?
Editor:Lu Jiaying |Source: CCTV.com