Watch Video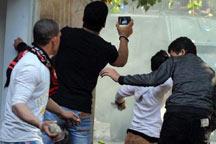 Play Video
By CCTV correspondent Adel El Mahrouky
Egypt saw a fourth day of violence, as opponents of President Morsi clashed with police in Cairo. Elsewhere in the country, anti-Morsi protesters fought members of the Muslim brotherhood. The unrest hit Egypt's main stock indexes, which began trading for the first time since president Morsi extended his powers, which included decrees that granted him immunity from Judicial review.
Supporters and opponents of President Mohammed Morsi have continued clashing on the streets of Cairo in the worst violence since he took office, Morsi defended a decision to give himself near-absolute power to root out what he called "weevils eating away at the nation of Egypt. The edicts by Morsi, which were issued Thursday, have turned months of growing polarization into an open battle between his Muslim Brotherhood and liberals who fear a new dictatorship.
Amr Abdallah, Cairo resident, said, " I will not leave not until we all change, not until President Morsi show us results it is not just about the constitutional declaration, Morsi will not change us, so he must leave"
The situation in Tahrir is Grave. Liberal politicians are not in the front line, but they equally are not willing to tell their supporters to quell the violence. neither does the police as they seem overwhelmed by the protesters.
Karim Fawzy, Giza Resident, said, "No one from the parties tried to stop the violence just us volunteer, we went to the police and told them please these are kids you can't be this brutal. But they didn't listen. We haven't seen such violence since president Mubarak, on the contrary president Morsi is more violent that what we have seen in the past. "
To minimise the violence the government decided to build a new concrete wall that is expected to secure the Prime minister's office and the upper house of the parliament.
All intended to lock out protesters in the Tharir square. Pro-liberal supporters are expected to organise a million-man protest on Tuesday to pile more pressure on the president, but his supporters have equally organized a counter protest to support the constitutional declaration.
Mohammed Morsi became the fifth president of Egypt in June, more than a year after protests that overthrew President Hosni Mubarak.
Editor:Lu Jiaying |Source: CCTV.com