Watch Video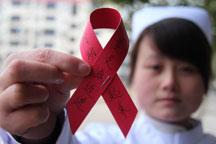 Play Video
By CCTV reporter Li Qiuyuan
Despite the progress made in the treatment of the HIV virus, AIDS continues to be a major struggle for more than 30 million people across the globe. Over the past three decades, China has gone through some dramatic transformations in its response to the epidemic, but some say that the lingering stigma is setting back those advances in treating AIDS.
Li Qiuyuan said, "27 years ago, it was at this hospital that the first case of AIDS was diagnosed in China. Today however, an estimated 780,000 people in China are HIV carriers. The country has set an ambitious goal to reduce its HIV infection rate by 25 percent by 2015 compared with that in 2010, but getting there proves to be a tough challenge."
From breaking the "conspiracy of silence" to launching national campaigns tackling the epidemic, Li Taisheng knows that China has made some bold strides in fighting AIDS.
Li Taisheng, director of Infectious Dideases of Peking Union Medical College Hospital, said, "In the beginning in China the spread of HIV/AIDS in China was slow, and everyone including the doctors were very afraid of this new disease. Before 2003, for HIV/AIDS patients in China, for 100 patients per year, there are about 30 or 40 of them die, but today, with treatment, with the government's "free HIV initiative" policy, now only 5 or 6 percent patients die every year."
According to Ministry of Health, this year China reported 68,802 new cases of HIV/AIDS by the end of October. Sexual transmission has become the primary channel of HIV/AIDS spreading rather than intravenously. Not only sex between men registered a sharp increase, the rising infection rate among young group is also alarming.
Sun Xinhua, Deputy Surveyor of Chines Center for Disease Control and Prevention, said, "Among new HIV cases from January to October of this year, nearly 86% of new infections came through sexual transmission. 21.1% came through homosexual transmission, a 6% increase from last year. The number of infections among young people aged 15-24 years have seen sharp increases, rising 12.8%. "
AIDS stigma proves difficult to eliminate in China.
Li Taisheng said, "I had patients who have the experience, when they need surgery, but they are rejected by other doctors and hospitals."
Chinese law bars medical facilities from refusing to treat people with HIV, but activists say discrimination continues because the law spells out no serious punishments. Many patients simply cannot afford the time and expense of taking hospitals to court.
One HIV carrier recently claimed the spotlight by altering his medical records to hide his HIV-positive condition so he could get surgery for lung cancer. His story sparked a firestorm of criticism directed at both the hospitals for rejecting him and the patient for exposing medical staff to risks they were not aware of.
Vice premier Li Keqiang was prompted to issue a statement saying that health facilities must not discriminate against people with HIV, and that such discrimination would be severely punished.
China now has about 1,000 non-governmental organizations dedicated to battling HIV/AIDS, most of them however, relied on donations, mainly from overseas.
At a meeting with NGOs working on HIV/AIDS, Vice-Premier Li Keqiang vowed more support from the government, especially in registration and funding for grassroots organizations committed to combating HIV/AIDS.
December 1st marks the 25th World AIDS Day, with a theme highlights the public health goal of "Getting to Zero"-- zero new HIV infections, zero discrimination and zero AIDS-related deaths.
Related stories
Editor:Wang Xiaomei |Source: CCTV.com