Watch Video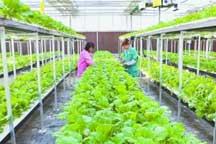 Play Video
By CCTV reporter Neela Eyunni
A global trend is just starting to gain traction in China. Reporter Neela Eyunni takes a look at why, when it comes to produce, shoppers today are choosing organic.
Almost non-existent just a decade ago, organic produce is now in high demand among Chinese consumers.
As concerns about food safety grow, an increasing number of shoppers are putting health ahead of cost to buy vegetables free of chemicals and toxins.
Beijing Shoooer, Lohaocity Organic Store, said, "Organic vegetables are better for you because they don't have any chemicals. That's especially important to me because I have a baby."
A recent survey in China by consumer research company Mintel found that more than half of participants said they bought fresh organic food in the past year. An even higher percentage of urban residents said they had incereased their spending on organic products.
Terry Yu, General Manager, Lohaocity Organic Store, said, "More and more people are paying attention to food safety as the country develops. They are willing to pay more for healthier food, which is why our organic food business has been able to grow. "
The surge in demand reflects the public's overall uncertainty about food safety and the effectiveness of government regulations.
Earlier this year, reports of formaldehyde-tainted Chinese cabbage rocked consumer confidence, causing many shoppers to go green. Furthermore, in a recent public opinion survey on basic government-provided services, food safety scored below three points on a five-point scale.
But buying organic comes at a steep price. Organic vegetables can cost three to four times more than ordinary ones.
Neela Eyunni, Little Donkey Farm, said, Some Beijing residents are taking a more cost-effective and hands-on approach. Here at the Little Donkey Farm located on the outskirts of the city, urban residents rent land to grow their own vegetables.
This is one of an estimated 300 community-supported agriculture, or CSA, farms throughout China.
The farm's deputy general manager, Yuan Qinghua, says urban residents not only get healthy vegetables but learn important lessons about food as well.
Yuan Qinghua, Deputy Gen. Mgr. of Little Donkey Farm, said, When people learn about farming here they are able to see how unnatural vegetables at the supermarket are. Cucumbers, for example, look entirely different when they're grown organically.
Yuan says the number of renters has climbed from 17 to more than 450 in the last four years.
Even snow and an hour and a half commute doesn't keep these Beijing residents from farming Chinese cabbage.
City Farmer, said, "We plant vegetables here because it guarantees they will be free of fertilizer. We sometimes bring our grandkids to farm with us."
So whether consumers are heading to their local grocery store or the nearest farm, it's a sign organic produce is here to stay.
Related stories
Editor:Zhang Pengfei |Source: CCTV.com