Watch Video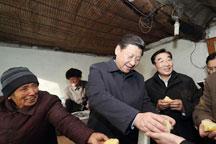 Play Video
By CCTV reporter Jiang Nan
The general secretary of the Communist Party of China, Xi Jinping, has made a weekend visit to Fuping County. The former revolutionary base is 300 kilometers from Beijing. Local officials told him about the economic and social development, and he directed them to increase poverty-alleviation work. Xi Jinping also visited farmers' homes to get a first-hand look at people's lives there.
In freezing temperatures of minus-10 degrees Celsius, Xi Jinping visited farmers' homes in a mountain-locked county in Hebei province. Xi Jinping visited two villages. Their annual net income per capita is not even halfway to the proverty line set by the government of 2300 yuan, or 390 US dollars.
Xi Jinping said, "I want to know how rural life is here. I want to see the real life." Xi Jinping paid special attention to the farmers' everyday concerns and difficulties, such as income, food, education and medical care.
Xi Jinping (R, front), general secretary of the Communist Party of China (CPC) Central
Committee and chairman of the CPC Central Military Commission, asks local village secretary Gu
Shujun (L) about crops production while visiting the family of Gu Chenghu, an impoverished
villager in the Gujiatai Village of Longquanguan Township, Fuping County, north China's Hebei
Province, Dec. 30, 2012. Xi made a tour to impoverished villages in Fuping County from Dec. 29
to 30, 2012. (Xinhua/Lan Hongguang)
He also visited clinics and shops to see what's available for villagers.
Xi Jinping stressed that policies to support agriculture, rural areas and farmers and alleviate poverty must be carried out in full. He called the embezzlement of poverty-reduction funds an "intolerable crime."
With the Lunar New Year -- Spring Festival -- around the corner, he directed the local authorities to make sure the villagers have a happy holiday.
Xi Jinping told them it's their duty to do their best for those in need.
Xi Jinping (C), general secretary of the Communist Party of China (CPC) Central Committee and
chairman of the CPC Central Military Commission, tastes steamed potatoes while visiting the
family of Tang Rongbin (back), an impoverished villager in the Luotuowan Village of
Longquanguan Township, Fuping County, north China's Hebei Province, Dec. 30, 2012. Xi made a
tour to impoverished villages in Fuping County from Dec. 29 to 30, 2012. (Xinhua/Lan Hongguang)

Chinese leaders watch Peking Opera for New Year
Top Chinese leaders including Xi Jinping, general secretary of Communist Party of China Central Committee, on Sunday watched Peking Opera at the National Center for the Performing Arts in a gala to celebrate the New Year. Full story>>
Related stories
Editor:Wang Xiaomei |Source: CCTV.com