Watch Video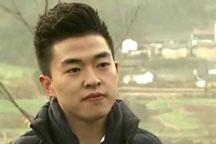 Play Video
By CCTV reporter Fei Ye
Charity takes on many forms; microfinance is one of them, which many Chinese people don't know too much about.
Wang Zhenning a father of two, divorced and a retired technician is trying to support his children through school. His older daughter is away in college and his younger daughter is attending high school. He borrowed 50,000 RMB of loan to open two small convenient stores near his home.
Wang said, "If I can't get the loan, I have no money doing my business, and then I have no income. The rural credit cooperatives will seldom give out small loans. If they do, I have to wait for a long time. It is more convenient to borrow money from a microcredit company. I can get money very fast. Now with this store, I earn about two thousand RMB every month. So I can give my daughter more living expenses."
Wang is just one of the many people that represent China's small business owners who are trying to make a better living with the help of a microcredit company. Meet Jiao Ran, a young man who grew up in the US and came back to China three years ago trying to help farmers in Yunnan province located in southwest China.
Jiao said, "I came here for the tea, and to learn tea, I got to get to the farmers houses and I've got to learn from them; how to pick tea, grow tea, and this opportunity just came up! I realized that I have resources in terms of knowledge. I went to university abroad I learned about finance, I studies economics. I know the tools, and I see the need here. They are not necessarily struggling thinking how do I make my family better. And I had a light bulb moment saying you know what, I could be that bridge."
Jiao's main operation is his microcredit company in Changning County, which is one of the poorest counties in Yunnan. Over the last six months, his microcredit company has given out eighty loans ranging from five thousand to a quarter million RMB.
Microfinance was first introduced in Bangladesh by Muhammad Yunus an economist and Nobel Peace Price winner. The model was adapted in China by professor Du Xiaoshan in the early 90s. He opened the first microfinance institute in Hebei province located in northern China. But it wasn't until 2006 when the government legalized microcredit companies around the country. Now there are more than six thousand microcredit companies in operation and microloans have grown over to seven hundred billion RMB.
Jiao said, "The old saying, you give them a fish you feed them for a day, you teach them how to fish you feed them for a life time. Individually they have more power. They won't be reliant on donations reliant on people feeding them no matter if it's food, clothing or money. It's them controlling their own faith."
Jiao's company charges 1.8 percent interest rates on loans, which is double of what local banks offer. Since microfinance is still a new concept in China, people still associate lenders with loan sharks who are trying to make as much profit as they can from the poor but Jiao has to constantly work against the stereotype.
Jiao said, "I'm working within a legal framework and also if you compare me to the local loan sharks they are charging one, two, three hundred percent more than it's being allowed. It's a constant challenge to justify yourself to the locals to the government. How do I overcome that challenge? With numbers, with data, our loan rates are acceptable and it's making a difference."
Microfinance has the ability to promote employment, boost self-esteem and contribute in the development of a community. I'm at Wang Guoyu's tea farm where a family of four was able to expand their tea farm business with 50,000 RMB worth of loan.
Wang said microcredit loans don't just help individuals but also contribute to the region.
Wang Guoyu, tea farmer, said, "My living standards and tea farm business have been improved. The different industries in this area have been developed. It gave more jobs to the people, which boosted our economy."
There are certain risks that come with lending to farmers, where people can't pay back the loans on time because their business didn't go well, but Jiao said it's measurable.
Jiao said, "My team members their diligence in terms of research, they talk to every family we give our loans to, we measure our risk. If we think this family is not healthy at this point doesn't mean we don't help them but our product doesn't fit for them."
Every job has its challenges but being able to interact, observe, and learn from people gives Jiao the most satisfaction. It also gives him a chance to redefine what the concept of charity means.
Jiao said, "Start small, means that you don't have to aim so big. You don't have to say I'm going to tackle poverty; you don't have to say I'm going to resolve the education problem. As an individual, your duty is to offer another individual a smile because in return you get the same feeling back."
Jiao is very optimistic about the future. And as the nation wide policy develops on microfinance, he hopes his model can become a cornerstone and example to many other microcredit companies, to be able to work together in alleviating poverty across China.
Related stories
Editor:Zhang Jingya |Source: CCTV.com