Watch Video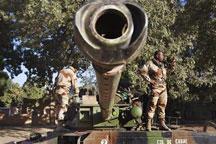 Play Video
US officials are reiterating the Obama's administration will not send troops to Mali to help French and Malian forces battling Islamist rebels. But increasing activity by al-Qaeda fighters in the region could force the US to divert some of its military resources away from Asia to North Africa.
The main focus in the region for the United States right now is the landlocked state of Mali where Islamist rebels are trying to overthrow the government.
France deployed 4,000 troops to Mali in January and captured the key northern towns of Konna and Gao.
But the rebels have proven difficult to dislodge and defeat. The US is providing logistical, intelligence and financial support, but a top US State Department official said there will be no American "boots on the ground."
In his recent State of the Union Address, US President Obama said that extremists have emerged from xxx to Africa.
Obama said, "And where necessary to a range of capabilities, we will continue to take direct actions against those terrorists who pose the gravest threat to Americans. Now, as we do, we must enlist our values in the fight."
The US already operates a drone base out of the tiny state of Djibouti and has deployed a small number of troops to the Central African Republican to take on the rebel Lord's Resistance Army.
The main United States strike force for Africa is known as "AFRICOM" and is currently based in Germany.
Officials say the Pentagon wants to expand operations in Africa to counter what it sees as a growing threat from al-Qaeda affiliates.
African diplomats say if the rebels in northern Mali are not driven out, it could become the new Afghanistan-a reference to the protection that the Taliban once offered al-Qaeda fighters in Afghanistan.
Related stories
Editor:Zhang Jianfeng |Source: CCTV.com