Following just two days of blue skies, Beijing is experiencing another day of smog today. And Shanghai's PM 2.5 density peaked at about 140 micrograms per cubic meter on Monday, nearly double the national limit of 75. The recent pollution in north and northeast China is raising public concern.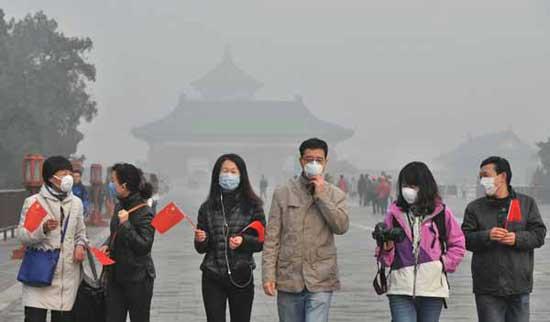 Visitors wearing masks get a tour in the Temple of Heaven in Beijing November 2, 2013.
[Photo/Xinhua]
It's another day of smoggy in Beijing.
The level of PM 2.5 in Beijing has risen to more than 120.
The prolonged smoggy weather in northern and eastern China has become one of the government's and people's top priorities.
A news briefing on China's policies and actions in addressing climate change has just been held in Beijing.
"Today, we'll issue an Annual Report on Actions to Address Climate Change 2013, in both Chinese and English. The report introduces China's polices on tackling climate change and its actions and achievements, which demonstrates the Chinese government is responsible and determined to meet its commitments." Xie Zhenhua, vice chairman of National Development & Reform Commission, said.
Speaking about the forthcoming UN Climate Change Conference, the vice-chairman of the NDRC expressed his expectations for the Chinese delegation.
"First is to implement the Bali road map on emissions reduction, financial support, technology transformation and management transparency. Especially emissions reduction, we hope this conference can realize the promise of the second commitment period under the Kyoto Protocol, and hope developed countries can meet their commitment to determine emissions targets by 2020. Second is the financial matter which developing countries are most concerned. We hope the developed countries can provide the initial funding of 30 billion US dollars by 2015 and 100 billion US dollars per year by 2020." Xie said.
He also said to tackle the worsening air pollution, a national action plan was unveiled in September.
It set various targets, for instance reducing the burning of fossil fuels, reducing the consumption of petroleum, alternating days when cars with odd and even license plates are allowed on the roads, and closing schools on badly polluted days.
In the past month, northern and eastern China have experienced continuous smog.
The China weather authority says 31 provincial-level regions on the Chinese mainland reported 4.7 smoggy days a month on average so far this year, that's the highest number of days since 1961.
Editor:James |Source: CCTV.com